Results For You
Cloudtech is committed to delivering results for you and we will approach all engagements from your business perspective. We have a philosophy of delivering faster, cheaper, better and safer for businesses.
We do this through close consultation with you at all stages including asking you to complete a Business Process Review Questionnaire (BPRQ) before we engage at the solution level.
By analysing the responses and using guided discovery workshops, we understand your business processes and we develop a plan that will deliver on our core philosophy. If we can't guarantee an improvement in at least one of those four elements, then our advice to you will be simple – don't do it.
Work with us and you won't just be hoping that your new Cloud-based application systems will deliver improvements. You'll know it. That is the promise we make to you.
WE WILL WORK FOR YOU
Call us or use our Contact Us form to begin to benefit from our expertise in how your business processes can transition seamlessly to the Cloud. We will explain the benefits of Cloud-based systems, consult closely on what you need, and develop a detailed plan on how to implement it. Together, we will get your business working better than ever before.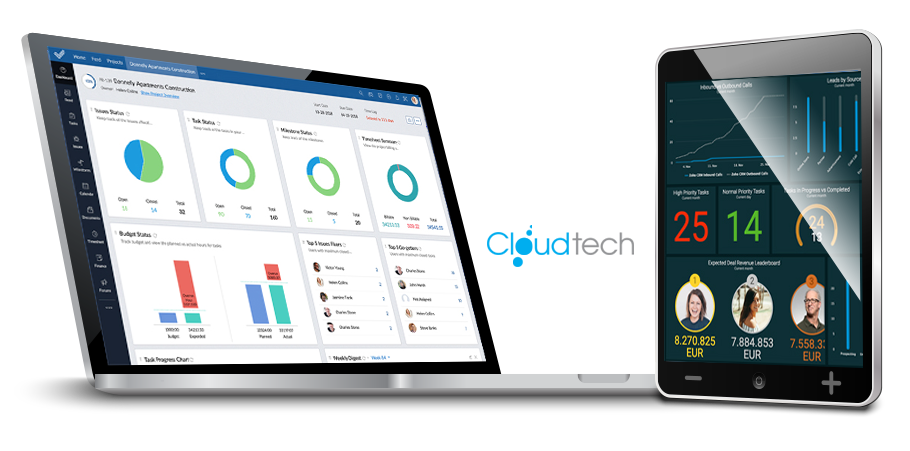 Collaborative Working
Collaborative WorkingCloudtech will provide you with a Cloud based collaborative working environment right from the first engagement.
This is used to capture and store all information, provide a forum for discussion threads and questions, a project calendar, and personalised 'to do' lists.
It ensures that all parties have secure access to the most up-to-date and relevant information at all times, so that the solution delivered is exactly what the client requires.
Business Process Review (BPR) Workshop
We begin each project with at least one BPR Workshop. The starting point is a BPR questionnaire covering the specific business processes and requirements needed to develop the solution.
Marketing, Campaigns, Leads and Sales Management
Pipeline and opportunity management
Customer servicing & case management
Business Operations, partner and channel (B2B, B2C, B2B2C) management
KPI's and business metrics (top down and bottom up)
Integration & data migration (extract, transform & load – ETL)
Immediate and future support requirements
Our consultant will review your BPRQ responses and plan the workshop in line with it.
The workshop is to ensure that all key stakeholders are fully informed of the change process and its requirements. We will document a 'road map' showing where the business is at the moment, and possible future phases of continuous improvement. This is to help avoid costly re-work becoming necessary at a later stage.
The workshop provides the initial information and template for building the Phase 1 solution.