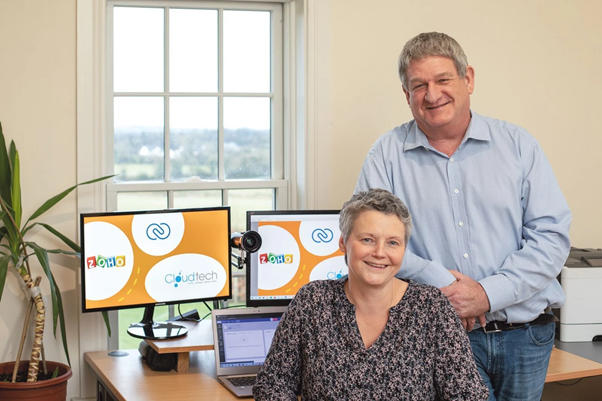 Cloudtech Interview with Sunday Business Post
Technology is advancing all the time and, while a lot of companies do their utmost to move with the times, others prefer to stick with what they know. Since the onset of Covid-19, however, everyone has had to make a concerted effort to conduct business remotely and digitally. As a result, companies that specialise in making this transition as easy as possible have been in demand.
One such company is Cloudtech, a Kildare-based business specialising in Customer Relationship Management (CRM) technology.
Since its establishment in 2009, Cloudtech has implemented CRM solutions for more than 300 clients in Ireland, ranging from SMEs to large-scale organisations. When the Covid-19 pandemic hit, and the government introduced the first national lockdown, Cloudtech had only recently relocated to a new office in Crookstown Business Park.
"We had moved into the office in December 2019 and started to recruit additional software developers," Tim Pullen, co-founder and chief executive at Cloudtech, said. "The lockdown and ensuing economic uncertainty severely impacted our existing client business and also meant that we had to leave the office in early March. As we use our own cloud-based solutions, however, all of our staff were able to be back up and running, working from home, the very next day."
Its ability to adapt stood Cloudtech in good stead, as clients – new and existing – began to adapt to the remote way of working.
"The last three months have seen a considerable upturn in business as organisations are starting to see the benefits of implementing our remote working solutions," Pullen said. "The team continues to work successfully from home, and we have not had any loss in effectiveness." For Pullen and Sinéad Leigh, Cloudtech's co-founder, Local Enterprise Office Kildare has proven an invaluable support over the years.
"We had an initial Business Expansion Grant and received both the Business Continuity Voucher and the Trading Online Voucher," Pullen said. "These have been used to further develop our online marketing strategy and create a new website with more online capabilities. We continue to have a good working relationship with LEO Kildare, which has been extremely supportive of our business. My advice to other companies would be to engage as early as possible with the appropriate agencies."
Cloudtech is currently implementing CRM solutions that can facilitate both remote and distributed working for companies, allowing them to adapt their business processes and increase online trade.
"In the last three months, we've seen a turnaround. Clients are making buying decisions again and our forward order book is 100 per cent healthier," Pullen said.