ZOHO ONE'S UNIFIED OPERATING SYSTEM – BOOSTS COMPETITIVE OPPORTUNITY FOR ALL BUSINESSES
Zoho one was launched in 2017 with a vision to build the most comprehensive software solution, packed with powerful applications, smart services, and an extendable platform to run an entire business.
Since its release in 2017, over 40,000 organizations have chosen Zoho One as their operating system. During the months of global and economic crises, Zoho launched Remotely, a suite of 11 business productivity and collaboration apps designed to help organizations transition to remote working. Zoho One witnessed a 60% customer growth with average number of apps used by businesses. In 2021, Zoho One presents Zoho one 21. Zoho one's unified user operating system with a unified interface, customizable dashboards, improved services, new features, and much more.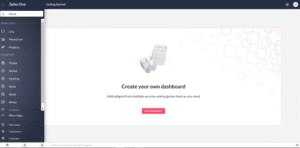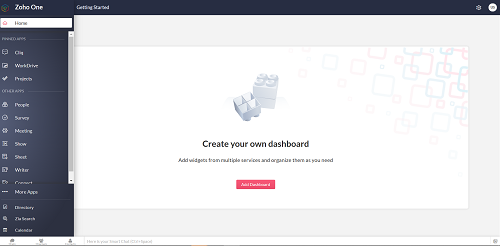 It is easier to deliver superior customer engagement and operational excellence when your enterprise applications are on one unified platform. Over the years, more than fifty applications have been added to the suite to handle processes in multiple departments including Sales, Marketing, Communication, Human Resources, Finance, Operations and more. The new Zoho One user interface makes it even better. It allows you to launch and manage your entire business from one browser tab. It has been Zoho's long term goal to have a unified system at every level, from the experience to the applications, right down to the infrastructure and networks that run in the back end.
For a better insight into Zoho One's unified operating system,  here is a summary of the new Zoho one interface.
One unified 
user interface
Manage your entire business from one place. Access applications, edit settings all from one tab.
Custom 
dashboard
With Zoho One's customizable dashboard, you can view and arrange all the data your business needs with the help of our 50+ smart widgets. All businesses are different and we track different metrics, so a unique and customizable Business interface is important.
Quick access 
sidebar
A unique feature with all Zoho products is the sleek look on all the applications. You may have to hover to find certain features. It is no different here. Zoho One's sleek new sidebar provides easy access to your favorite apps and services and makes it simple to create useable app groups.
Unified search for Zoho apps
Zia search is an amazing way to find any information you need. Stop switching between apps to find information. The unified smart search assistant solves this issue by filtering through 20+ apps in the Zoho suite, including your email, CRM, Desk, Documents, and Contacts instantly.
Extendable platform
Zoho One plays well with third-party apps. Our extensive developer tools enable you to build custom applications, and operate your entire business from a single unified platform.
Unified Apps
New apps included in the unified Zoho One to add more power to your business.
Commerce – With Zoho Commerce, you can do everything for your online store. Within the app, you can build a website and track inventory, analyze data and accept payments.
TeamInbox – Allows you to collaborate better with team members. Efficiently manage emails with designated roles and task delegation in one shared inbox to keep track of all that's happening.
Lens – Deliver remote assistance to your customers and employees by assessing the issue through their mobile camera. Identifying defects using augmented reality (AR), and providing remote resolution in real time.
Learn – Use Zoho Learn to create a company-wide resource library, design learning modules, track training results, and share information with coworkers to centralize your organization's knowledge base. Create manuals and articles which your team can always revert to.
DataPrep – Get your company data ready for analysis using AI-powered data cleansing tools to enhance data quality.
Should you use Zoho One?
Small and medium businesses should consider using Zoho. It is ideal to use a system that works, and monitors all aspects of your business and not have to risk switching in the future. The cost of the Zoho one suite license is also a good selling point for what it offers.
Larger sized organizations may be reluctant to make a transition due to the amount of data import as well as software transitions that may be required. In this case, Zoho has recognized the resistance to change and has built an integration with many third-party applications.
Zoho has made another step in the right direction and we are excited to see what comes next with this ever evolving Business Operating System.
For more information on Zoho, check out our website – www.cloudtech.ie or feel free to give us a call on +353 (86) 604 4820. Also see some clients we have worked with and read their testimonials on how Zoho has improved their business.